Youth Initiatives (YI) had a miraculous birth. It grew out of a series of parish missions in West Belfast between 1988 and 1990, where many young people took first steps toward conversion. Some of our staff and YI graduates can trace their marriages, careers and vocations back to those early missions. Those were heady and exciting times, but our success also led to problems. Complaints increased, for instance, when students wanted to have prayer meetings during school hours. And opposition grew: people were getting suspicious of this new phenomenon of radical conversion to Christ by young people. It took years to gain some people's trust.
In 1991 we officially became a charity called Youth Initiatives. About 30 volunteers started meeting regularly, and a vision began to take shape. One big question was how to fund this work. We felt called to find a way for faith-based Christian ministries to link with government-funded work, something revolutionary at that time in Northern Ireland. Over the next 10 years, we partnered with government entities and charities, resulting in a ministry which met the exacting government standards while keeping its Christian ethos.
We had a very small core team, and in those early days the Scripture of the feeding of the 5,000 spoke to us: God could multiply the little we had to offer.
Over the years YI has become an environment that encourages youth to shed their fears and step out in confidence. One example was "Belfast Born": two young Belfasters (Jim Keenan and Paul Jordan) had the idea of a play, and others came alongside them. The result was an award-winning cross-community drama (that is, with both Catholics and Protestants involved) that performed in front of sold-out audiences across Belfast, in Catholic and in Protestant areas. Other projects followed, such as mission trips to Rumania and the U.S.A.
A lot has happened in YI in the intervening years. We have developed as a professional youth organization with paid staff and many volunteers. We run many projects and try to keep our policies and procedures in good order to make sure that young people are safe among us. But we have not strayed from our roots. We still relate one-to-one and in small groups with the young people who hear about us and come along to see what's up. And we continue to engage them in helping to lead the programs and give them a vision for looking out for one another – to make it a place where young people can flourish. The God who brings hope, life, and transformation is still very much at the heart of our work.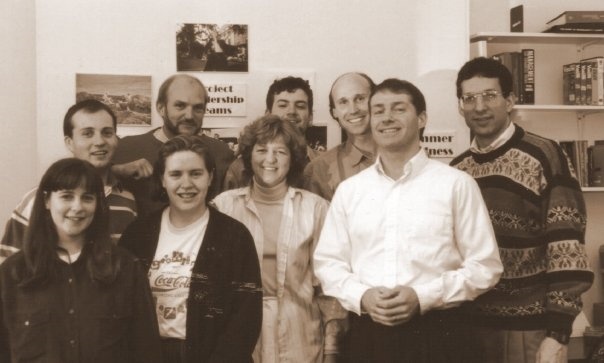 A young man from a dysfunctional family looked around the room at a YI social and said: "Look at this, a real miracle. People from all over Belfast, Catholics, Protestants, different social backgrounds, yet I consider them all my family.
Paul and Gary, both YI grads themselves, now marvel that their own children are involved in Youth Initiatives: "What helped us discover our mission and where we found faith ourselves, has become a place of ministry and service for our children."
This article is from our Spring 2016 Newsletter: SW_Newsletter_Spring2016.pdf